Winter sports injuries can include blisters, strains, sprains, calluses, athlete's foot, frostbite and even fractures. Peroneal Tendon pain is very common with winter shoegear
Hitting The Slopes
One of the most exhilarating winter sports is skiing. Whether you're a beginner or a seasoned skier, it's important to make sure you are in good shape for the sport. This means that you will need to train properly before you hit the slopes. To get in shape, and to prevent winter sports injuries, experts recommend strength training. Focus on your quads, glutes, hip muscles, back, neck, and core. It's also essential to stretch right before any type of physical activity.  In cold weather, muscles take longer to warm up.
It's important to wear properly fitted ski boots and adding insoles for support.  The right footwear will also ward off a host of other foot problems such as blisters and calluses. The warm, moist environment of ski boots is the perfect breeding ground for athlete's foot too. Make sure you invest in a few pairs of thick nylon, acrylic, polyester or even merino wool socks . They will keep your feet at the right temperature. Also, moisturize your skin regularly, because dry, cracked skin, will lead to painful heel cracks and calluses.
Winter Appropriate Gear
If you not a skier, and just enjoy taking long walks in the winter, it's also important to dress appropriately. Wear properly-fitted footwear that will keep you from falling.  You may want to use ice grips or traction devices that easily attach to the bottoms of shoes or boots to help prevent slipping on icy surfaces. If you go ice skating and are wearing rental ice skates, it's important to get fitted and wear thick padded socks to prevent rubbing, and to lace the skates up tightly around the ankle to prevent sprains.
Also, the right socks, boots, and shoes will make all the difference in not only your level of enjoyment and your workout, but your safety. Boots and shoes that are too tight or too loose can cause calluses or blisters as your feet are exposed to repeated friction or pressure as you move.  A good way to prevent or avoid foot problems such as blisters is to make sure you wash your feet every day and dry them thoroughly after you exercise. If you have diabetes or peripheral arterial disease you are also at higher risk for frostbite because the circulation to your legs and feet may be compromised.
Injuries
Winter sports can also be hard on your ankles and knees. Your ankles and knees act as both your shock absorbers and your brakes as you ski, skate, or snowboard, and they also help you steer and accelerate when whizzing down the slopes or circling an ice-skating rink, so they must be protected.  It is recommended to use knee braces for winter sports such as skiing and snowboarding.
To reduce your chance of suffering a knee inquiry, always make sure your ski bindings are property adjusted for your skill level. The higher your ability, the tighter your bindings should be.  And, if possible, work on falling to the side instead of backwards or forwards because this is less traumatic for your knees. Ankle sprains and fractures are more common in snowboarders because they do more twisting. A good way to avoid ankle injuries is to work on your balance proprioception with a wobble board. Wearing sports insoles, and/or ankle tape can also help prevent winter sports injuries as well.
Protect Yourself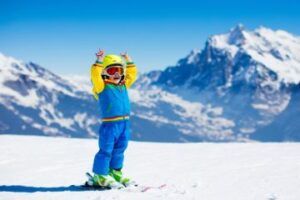 We've talked about protection and touched on prevention. But one of the one of the most important things you need to do is to wear a helmet. A minor fall can turn into a major injury when your head is involved. And, if you are injured, don't let it go. Follow up and visit your doctor as soon as possible. Because a minor pain can turn into something bigger if it's not addressed.
Always Inspect Your Equipment
Before beginning activity, check your gear–everything from goggles to bindings. Small defects or malfunctions in equipment can cause major accidents.
Warm Up
When your muscles and ligaments are cold, they are tighter and more prone to injury. Warming up prior to activity can help reduce susceptibility to tears, strains, and other injuries.
Always Wear A Helmet
Winter sports pose a particularly considerable risk of concussions and head injuries. Always wear a helmet to minimize the risk.
…And Don't Just Stop At A Helmet!
Whether you're skiing or playing ice hockey–or just about any other winter sport–it is always critical to wear all appropriate safety gear; that may include padding, goggles, fitted boots, etc.
Fall Properly
When balance is lost during a downhill sport (like snowboarding or skiing), falling properly can help minimize injury. Generally, it's advisable to fall to the side and not to brace yourself with your arms (this can cause fractures); however, the top priority is always protecting the head.